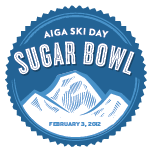 What's a little hooky when
you've been working hard
through the holidays?
We know your legs are aching to get moving and a little cold mountain air would do you good!
Enjoy the benefits of being an AIGA member in the Reno/Tahoe chapter and come ski with us at Sugar Bowl, Friday, February 3, 2012, for FREE. Join your fellow design professionals with a day of skiing, boarding or enjoying a spicy Bloody Mary on the deck of the Judah Lodge.
We know that the little snow pack the region has been gifted this year might have you ending your day early. In lieu of this, at 2pm, AIGA will be hosting a lunch tailgate in the Sugar Bowl Parking Lot.  Brats, beers and chatter. 
Whatever your choice, it's time to get out of the cubicle and into the fresh air. AIGA Members ride FREE all day. If you're not an AIGA member, you can still purchase lift tickets at the Sugar Bowl Ticket Office and spend the day on the slopes with AIGA.
Members must register by midnight, February 2, 2012 and meet the AIGA group at the Judah Lodge at 10am to receive their lift ticket.
Registration will open January 18, 2012. 
Contact Tyler at tylerstpierre@me.com with any questions or concerns.
Let us know if you need a ride. We don't mind sharing a seat heater with you.
*The BBQ is weather dependent. If it's snowing, which we pray for daily, we'll have burgers in the lodge!